Fall Prevention
Falling is very common; it can result in injury and can shake your confidence.  The threat of falling can be a barrier to safely doing all the things you want to do at home and in the community.  That's why preventing falls is critical to maintaining independence.
Stepping On: Building confidence, reducing falls
What is Stepping On: Building confidence, reducing falls?
Stepping On is a program that has been researched and proven to reduce falls in older people.
It consists of a workshop that meets for two hours a week for seven weeks.  Workshops are led by a health professional and a peer leader – someone who, just like you, is concerned about falls.  In addition, local guest experts provide information on exercise, vision, safety, and medications.
Should I Attend?
Stepping On is designed specifically for anyone who:
Is 60 or older
Has had a fall in the past year
Is fearful of falling
Lives at home
Does not have dementia
What will I Learn?
Simple and fun balance and strength training
The role vision plays in keeping your balance
How medications can contribute to falls
Ways to keep from falling when out in your community
What to look for in safe footwear
How to eliminate falls hazards from your home
Tai Chi: Moving for Better Balance
What is Tai chi: Moving for Better Balance?
Tai chi: Moving for Better Balance helps older adults improve their balance and reduce the likelihood of falling. Research has shown that people who complete the program are half as likely to fall and are less fearful about falling.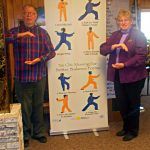 Should I Attend?
The program is intended for community-dwelling older adults aged 60 and older, who can walk easily with or without assistive devices.
What will I Learn?
Participants will learn balance skills, good body alignment, and coordinated Tai chi movements.
How Often Will I Need to Practice?
Participants should practice Tai chi: Moving for Better Balance for approximately three hours each week.
What Health Benefits Will I See?
Improved physical health that leads to better functioning in daily activities.
Improved balance, muscle strength, flexibility and mobility.
Better mental health such as increased self-esteem and less social isolation.
Contact the Fall Prevention Coordinator at 402-462-6211 today for more information and to learn how you can get involved.
Current Classes:
Hastings

Superior

Red Cloud

Nelson

Fairfield

Blue Hill

Hastings YMCA

Good Samaritan Village- Hastings