Salud de las Minorías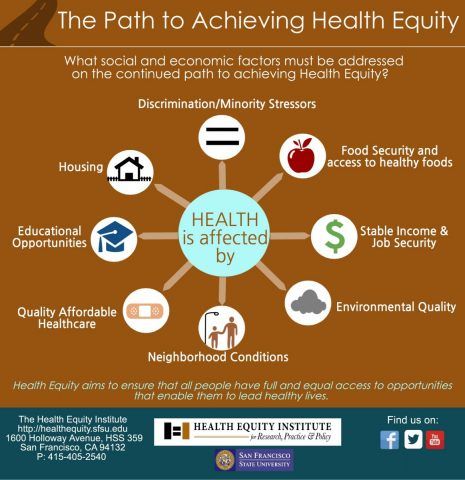 South Heartland trabaja para garantizar que todas las personas tengan acceso pleno e igualitario a oportunidades que les permitan llevar una vida saludable.  Para lograr la equidad en salud, debemos esforzarnos por eliminar las inequidades y disparidades en salud evitables.
Obtenga más información haciendo clic en las siguientes infografías o llame a la oficina hoy.
Spanish
Para solicitar ayuda en español con la información de South Heartland District Health Department, por favor póngase en contacto con uno de nuestros empleados bilingües: Llame gratis al: 1-877-238-7595 e-mail: mail@shdhd.org
Spanish: To request help in Spanish with South Heartland District's information, please contact one of our bilingual staff: Call toll-free: 1-877-238-7595 e-mail: mail@shdhd.org
"El Paquete Total" (The total package)
Mary Lanning HealthCare Foundation: el Departamento de Diabetes y el Departamento de Salud del Distrito de South Heartland es un esfuerzo conjunto para el apoyo médico y de programas continuo para satisfacer las necesidades a largo plazo de control de la enfermedad de la diabetes de la población hispana a través de servicios médicos de calidad, educación sobre la salud y un entorno de aprendizaje sobre la salud.  Los clientes incluyen hombres, mujeres, adultos jóvenes y ancianos.  Inicialmente, el primer programa comenzó con 44 personas hace casi quince años y ahora evolucionó a aproximadamente 200 personas.
 La visión de este programa es proporcionar un programa continuo y sólido que se centre en el bienestar total del individuo y la familia medido por resultados de IMC más bajos, resultados de laboratorio de azúcar en sangre de AIC más bajos, ejercicio constante, alimentación saludable, manejo del estrés, autocontrol de enfermedades, documentación del programa del cliente y acceso  a la información de salud en curso.
En general, este proyecto de salud ha mejorado la atención médica de la comunidad minoritaria que se enfrenta a la diabetes y otros factores de riesgo para la salud a través de la educación, grupos de apoyo, apoyo para el ejercicio, facilitación de programas para ayudar con medicamentos y suministros para pruebas, acceso directo a médicos y al sistema de atención médica,  reunión con un dietista registrado, y apoyo y seguimiento de gestión de casos.
Para obtener más información sobre el programa o inscribirse, llame a la oficina hoy sin cargo: 1-877-238-7595 o 402-462-6211, correo electrónico: mail@shdhd.org o comuníquese con Mary Lanning al 402-461-5318 y hable  a uno de los intérpretes hispanos.